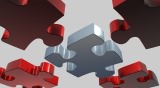 Slogan Ideas can be obtained from our help writing a slogan tutorial to help you brainstorm to develop slogan ideas that will market and promote your company, product, or service
effectively
. This tutorial provides help and explains a process you can use to formulate many
slogan ideas
to ultimately produce a slogan that will be an attention grabber and get sales. In the end, it is your responsibility to choose what you feel is the best slogan to market your business, but this
slogan ideas
tutorial can be a valuable step in the final choice of your company slogan.
Slogan Ideas: Get Help Writing a Slogan
Here are some tips you can use to spark some slogan ideas:
A slogan when properly written will reinforce a company logo to give a company, product, or service a brand identity. If you don't have a logo yet, but you want one, it might be a good idea to create a logo first. Then, the slogan and the logo can work together to create a stronger brand identity.
You need to bring out the best features of your company, product, or service in a short several-word sentence that will give you new customers.
You want it to be short and sweet so it is easy to remember.
Something clever and funny will increase its mental staying power.
Think about the characteristics of your company, product, or service.
Answering these questions will give you
help writing a slogan
:
What do you like about your product?
How does it improve people's lives?
How is it better than your competition?
Keep your eyes open, look around you to be aware of what is happening in your field. You want to develop a slogan that will make your product appear to be the best as far as the questions you answered about it above. You want your
slogan
not only to focus on the here and now but also be timeless. We don't know how long our company will be around it hopefully will be decades or longer. You will most likely need to update your slogan if your company exists for that long. Considering all the
advertising
dollars that you may spend promoting your company with this slogan you will want it to be relevant for as long as it can.
Our free
slogans generator
app can be a great
help
to create a completed slogan providing many useful
slogan ideas
and
slogan examples
. You will enter the word on which you want the slogan to be based, then each time you click the button a new random slogan will be created for you. You can take what you like, even the bits and pieces that give you new slogan ideas.