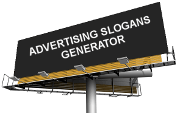 Advertising Slogans are an effective way to promote a product or service. You can quickly and easily create customized slogans for your business in seconds, using our
advertising slogans generator
. Other resources include a
write effective slogans tutorial
, information about slogans, and our online Advertising Slogans Generator below. Simply enter the word or words you wish to create a slogan for into the box below and click the button. The app will create your free slogans instantly in a matter of seconds.
Advertising slogans are the most effective means of drawing attention to one or more aspects of a product or service. Typically they make claims about being the best in quality, the tastiest, the cheapest, or the most nutritious. Do they provide an important benefit or solution or are they most suitable for the potential customer? That is for the consumer to decide.
At the start of World War I a famous poster called on young British men to volunteer and serve their country as expressed by one of Britain's foremost soldiers, Lord Horatio Kitchener. The famous slogan "Your Country Needs You" was heard around the world. Still today, the United States uses a variation of this slogan "Uncle Sam needs you," or "The Army needs you."
Advertising slogans often play a large part in the interplay between rival companies. An effective slogan usually accomplishes the following goals:
States the main benefits of the product or brand for the potential user or buyer…
Implies a distinction between it and other company's products…
Makes a simple, direct, concise, crisp, and apt statement…
Is often witty, if it is required as not all advertising slogans are meant to be witty…
Adopts a distinct personality of its own…
Gives a credible impression of a brand or product…
Makes the consumer feel good…
Makes the consumer feel a desire or need…
Is hard to forget - it adheres to one's memory, whether one likes it or not…
Advertising slogans are usually written by professional writers. Advertising slogans are subject to ethical constraints and are often reviewed by official bodies, such as the Advertising Standards Authority in the UK, or the European Advertising Standards Alliance. They claim to have a responsibility to the public good and whose decision-making follows an Advertising Code. Similar organizations exist in Canada, Ireland, New Zealand, Australia, South Africa, and other countries.
Example advertising slogans:
"Let your fingers do the walking." - Yellow Pages, 1964, Geers Gross
"Must See TV" - NBC, the late 1990s
"Nick is for kids" - Nickelodeon TV channel
"The Breakfast of Champions" into the 1990s
"Bet you can't eat three" - Shredded Wheat
"Can't Get Enough of That Golden Crisp"
"Getting There Is Half The Fun" - Cunard Line
"Leave the driving to us" - Greyhound Lines
"See what brown can do for you" - UPS
"Exceedingly Good Cakes" - Mr. Kipling Cakes
"Doing what we do best," and later "Something special in the air" - American Airlines
"Free Slogan Generator by Slogan4U It's All We Do" - Slogan4U.com
As you can see advertising slogans are an important part of promoting and selling a product or service. Feel free to use the following advertising slogans generator and for help writing your advertising slogans consult our write effective slogans tutorial.

Use our Advertising Slogans Generator when you need to create slogans for your company. You can do so easily right now using this online generator app to produce as many results as you need. There is no fee to use this tool or use what you have created.
This app is a do-it-yourself system where you enter words central to advertising your company, product, or service. This app couldn't be easier to use. Enter your word or words on which you want to focus and click the button. You can experiment by using different words to change it up a bit. The generator will perform its job to randomly create as many slogans as you desire until you find one that will fit your company's objectives.
We don't entice you to use it, like it, then ask for a fee to use the slogan. You are permitted to use what you create here in any media form. Please read our
terms of service
to get all the details. Aside from our excellent
free advertising slogans generator
, we provide the following resources with tutorials,
examples
, and
ideas
. You are welcome to use them to help you along your way.
Enter Your Words